American consumers are still spending on home and garden materials online—even as they've pulled back over the past year on purchases of clothing, recreational goods, and vehicles, according to a Stacker analysis of Census Bureau data.
The analysis looked at online retail categories that benefited from increased spending during the pandemic years. In 2020, the pandemic provided a shot in the arm to e-commerce sales as retailers closed stores and laid off staff.
With nowhere to go, shoppers headed online to purchase things like workout equipment, home goods, pajamas, and athleisure clothing. Those categories all saw a boom in demand through 2021 as consumers spent stimulus check-bolstered incomes, improving their homes while spending more time there.
The increased online purchasing stuck, with e-commerce sales representing a larger portion of consumer spending today than ever before.
But the steady stream of interest rate hikes since the second quarter of 2022 has changed how consumers spend their money online as inflation dampens their purchasing power.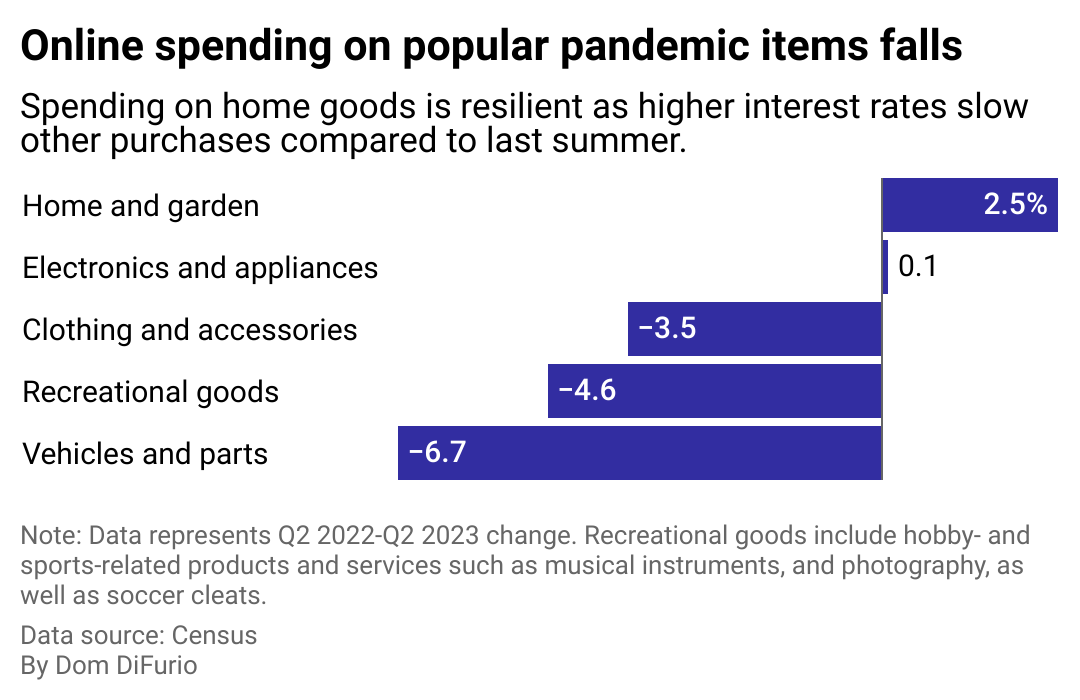 Less play, more housework
This past summer, consumers spent slightly more online than the previous year on home-building materials and gardening equipment. The home and garden spending category does not include furniture. Spending on home appliances and electronics was roughly flat over the year.
Online spending on vehicles fell the most since the second quarter of 2022. Over that period, interest rates have risen, bringing the monthly payments for vehicles up with them. The average monthly loan payment for a new vehicle purchased in the second quarter of 2023 was $729, up from $672 a year prior, according to Experian data. Among the categories analyzed, recreational goods and clothing saw the next most significant decline.
As millennial and Gen Z consumers continue to battle higher-than-usual inflation, other headwinds loom. The restart of student loan payments in October could sap hundreds from monthly discretionary budgets. Interest rates for credit card debt are also at all-time highs, pushing up monthly payments for consumers who carry a balance. August 2023 survey data from Morning Consult suggests that 43% of millennials have credit card debt.
Story editing by Ashleigh Graf. Copy editing by Kristen Wegrzyn.