While 2021 was a record-breaking year for the Cape Hatteras National Seashore, 2022 was a popular year on Hatteras and Ocracoke Islands as well, with one of the highest numbers of visitors in recent history.
Per statistics from the National Park Service, the Cape Hatteras National Seashore (CHNS) received a total of 2,862,844 visitors in 2022.
2021 saw a total of 3,206,056 visitors, which was the highest number of visitors since the National Seashore was established in 1953.
2021 was also the first time that CHNS visitation surpassed the 3 million mark.
2022's 2.86-million figure represents the second-highest number of visitors since 2002. For comparison, the CHNS hosted 2,645,377 visitors in 2020, 2,607,632 visitors in 2019, 2,590,388 visitors in 2018, and 2,433,703 visitors in 2017.
Visitor totals for the past five years, per the Outer Banks Visitors Bureau's statistics, are listed below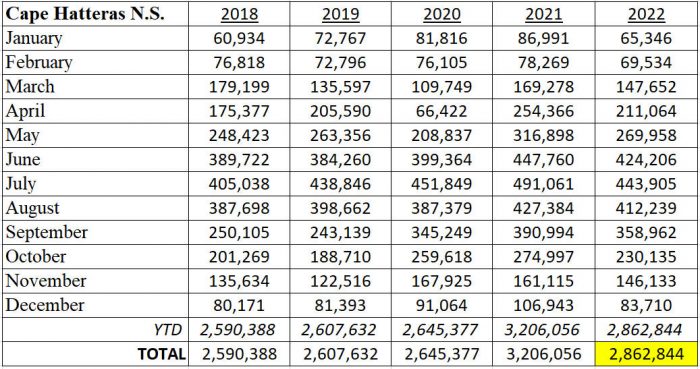 Seashore visitation estimates are collected by counting southbound vehicles just north of the Marc Basnight Bridge and using a multiplier to estimate the total number of passengers heading south. Those estimates are added to the number of passengers going to Ocracoke Island from Cedar Island and Swan Quarter.